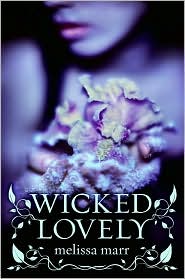 A Wickedly Great Read

Invisible fairies, a Summer King looking for his Queen, a wicked fairy, and a girl who could change their world as they know it.

Melissa Marr's WICKED LOVELY brought me into a new and captivating world.

Aislinn has a secret she's lived with all her life. She sees fairies, mischievous ones, and mean ones, and dangerous ones in all different odd shapes. And suddenly they are paying more attention to her, speaking with her, and she's scared. She only feels safe in the arms of her best friend, Seth. But she's so alone, if only she had someone to share her secret with...

According to her grandmother there are 3 rules she must follow, and soon she's breaking all the rules. The Summer King is trying to court her and she doesn't know why. In order to keep her freedom and Seth safe, she's determined to find out what he wants.

But can she before the fairies bring her into a world she wants no part of?

A wonderful tale of fantasy, true love, and facing fears, you don't want to miss this one. I'm looking forward to Melissa Marr's latest novel, INK EXCHANGE.