Here's a a new paranormal anthology to sink your teeth into you! Our friend Jeri Smith-Ready wanted to let us know she is part of this great group of paranormal authors sharing their cool YA paranormal stories.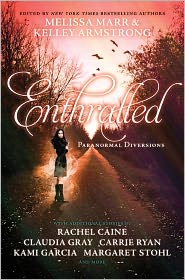 A journey may take hundreds of miles, or it may cover the distance between duty and desire.

Sixteen of today's hottest writers of paranormal tales weave stories on a common theme of journeying. Authors such as Kelley Armstrong, Rachel Caine, and Melissa Marr return to the beloved worlds of their bestselling series, while others, like Claudia Gray, Kami Garcia, and Margaret Stohl, create new land-scapes and characters. But whether they're writing about vampires, faeries, angels, or other magical beings, each author explores the strength and resilience of the human heart.

Suspenseful, funny, or romantic, the stories in Enthralled will leave you moved.

And here's a sneak peek into Jeri's story "Bridge":

In the world of the SHADE novels, everyone seventeen and under can see and hear ghosts, but no one else can. So when Logan Keeley dies and his eighteen-year-old brother Mickey blames himself, they can't ease each other's pain or reconcile their rage. Over the course of SHADE and SHIFT, Mickey sinks into a near-suicidal depression over Logan's death.

"Bridge" is the story, told in free verse, of how two brothers, with the help of a stranger, forge the chasm between them to find a lasting peace.

Sounds like another fantastic anthology! Be sure to check it out!

Jeri Smith-Ready has been writing fiction since the night she had her first double espresso. Her nine published books include two series for adults and the SHADE trilogy for teens, about a world of ghosts only the young can see, which concludes May 2012 with SHINE. Like many of her characters, Jeri enjoys music, movies, and staying up very, very late. Visit her at www.jerismithready.com, or on Facebook (www.facebook.com/JeriSmithready) or Twitter (http://twitter.com/jsmithready), where she spends way too much time. Logan himself can be found on Twitter @keeley_logan, as can his rival/"brother-in-pulp," Zachary Moore (@moore_zachary). The boys love to chat with each other and with their real-life fans.