YA Fresh News!


Introducing a new member to YA Fresh: Debut Author, Tina Ferraro! Woo-hoo!!

Yes, Tina and I are critique partners. She also blogs over at Books, Boys & Buzz on Tuesdays and has graciously accepted to blog here on Fridays. (But we won't give her hard time if she blogs on another day. ;D)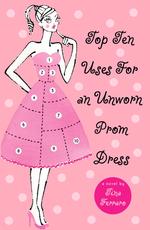 She is the author of the novel, Top Ten Uses for an Unworn Prom Dress, Delacorte Press, March 2007 as well as How To Hook A Hottie, Delacorte, Spring 2008. She's talented, friendly, an all around great gal, and I'm happy to have her join YA Fresh!

YA Fresh will still have interviews with great YA authors, talk movies, books, and all that's fun, only with additional fresh voice. Tina willl kick off the New Year here with an introductory post. So stay-tuned and give Tina a big hello!

Thanks for joining with me, Tina. It's going to be a great year in 2007!