Linda Gerber's continuing her mysterious Aphra Connolly series with Death by Denim!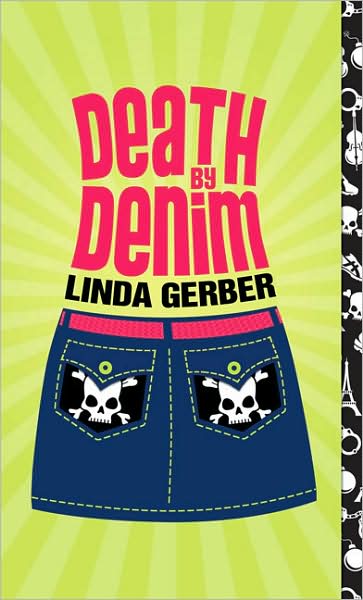 Aphra Connolly is being chased by some very dangerous people. She knows her survival depends upon staying far away from love interest Seth, and listening to her mom's lectures on the finer points of anonymity and survival. But how is a girl supposed to live under the radar and not think about her boyfriend when she's in Paris—the most romantic city in the world? When her mom's contact in Paris is found floating in the Seine with a deadly message stuffed in his mouth, Aphra realizes that she will never be able to stop running unless she confronts the situation head-on. Sneaking away from her mom, Aphra tracks down the criminal mastermind in Italy, only to unwittingly reveal Seth's location. And her mistake has just put them both in mortal danger...
Hi Linda, thanks for stopping in to chat about Death by Denim! What should we expect with the latest book in the series?
Linda: DEATH BY DENIM hits the shelves on May 14 – less than three weeks away! Both Aphra and Seth have to up their game in this one. Lots of action, drama, and some long-awaited smooching.
Yay! haha! What's up next? Do you have another project in the works? If so, please tell us about it.
Linda: I'm switching gears a little bit on the next project – going paranormal. We haven't found a title we love yet, but the book is about trance-writing sisters who have to learn to trust their gift – and each other. It will be released in 2010.
Awesome! Best of luck, Linda! And I hope everyone marks thier calenders for Linda's cyber launch party on May 14, 15 and 16 on her blog: http://lindagerber.blogspot.com!
Linda Gerber recently returned to life in the Midwest after four years in Japan, where she served as the Regional Advisor for the Society of Children's Book Writers and Illustrators. Her books include SASS: NOW AND ZEN, SASS: THE FINNISH LINE and the YA mysteries DEATH BY BIKINI, DEATH BY LATTE and DEATH BY DENIM. She currently lives and writes in Dublin, OH, blissfully ignoring her husband, kids, and one very naughty puppy. Visit Linda's website, www.LindaGerber.com.