Zombie Blog Bash and a Giveaway!

I just had to share about the fun book I read by author Amanda Ashby--Zombie Queen of Newbury High coming out March 5th!

Here's the blurb: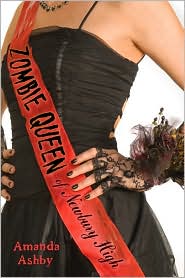 Quiet, unpopular, non-cheerleading Mia is blissfully happy. She is dating super hot football god Rob, and he actually likes her and asked her to prom! Enter Samantha-cheerleading goddess and miss popularity- who starts making a move for Rob. With prom in a few days, Mia needs to act fast. So she turns to her best friend, Candice, and decides to do a love spell on Rob. Unfortunately, she ends up inflicting a zombie virus onto her whole class, making herself their leader! At first she is flattered that everyone is treating her like a queen. But then zombie hunter hottie Chase explains they are actually fattening her up, because in a few days, Mia will be the first course in their new diet. She's sure she and Chase can figure something out, but she suggests that no one wear white to prom, because things could get very messy.

This is what I have to say about it:


"Zombie Queen of Newbury High is where popularity can turn you undead (with an unsettling appetite) and Prom will be a little dangerous this year. Amanda Ashby moves into the YA world with snapping prose and an entertaining high school mix of teen crushes, popularity drama, and a zombie squad. Zombies beware--you'll love to follow the twists and turns of this fresh and fun novel!"
And Amanda is like having the coolest blog launch party this week on
her blog!
Check out the vid below...
And because Amanda is so cool, she's also sharing an ARC of
Zombie Queen of Newberry High
with a lucky YA Fresher. Leave a comment and you'll be entered to win! Winner to be announced Sunday (March 1st
)!