Have you heard of this cool journal called Read, Remember, Recommend for Teens: A Reading Journal for Young Adult Book Lovers by Rachelle Rogers Knight?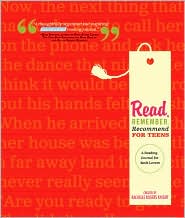 We have and we are totally jazzed to be listed within this awesome journal. Read, Remember, Recommend for Teens offers more than 2,400 award-winning and notable reading suggestions in many genres, cross-referenced to help parents and teens chose the right books for them. This unique journal sold out its first print run, attracting readers with recommended lists of fiction, manga, historical fiction, romance, westerns, crime novels, and poetry, as well as nonfiction sections focusing on biography and autobiographies.

Rachelle Rogers Knight also has a cool website called www.bibliobabe.com with news and events focusing on YA fiction, cool links for teens, and contests!

YA Fresh is honored (okay, Tina and I, are totally psyched) to be listed under the Young Adult Literature Blogs section in the Sourcebooks edition to be released April 1, 2010.
About Rachelle:
Rachelle Rogers Knight is a passionate reader who has enjoyed books her entire life. Rachelle self-published Read, Remember, Recommend and Read, Remember, Recommend for Teens in 2007, and earned the Bronze Medal for "Independent Publisher of the Year" from Independent Publisher Online Magazine in 2008. Sourcebooks, Inc. is releasing new and improved editions of the self-published hit this April. She recently re-launched her website www.bibiliobabe.com, an amazing blog and resource for book lovers.
So check out the journal and check out Rachelle's website too!