We interrupt our regular YA Fresh blogging with this SPECIAL announcement...

Our own Tina Ferraro is a RITA finalist for her young adult novel, THE ABC's of KISSING BOYS!!!! Yes, that makes Tina a two-time finalist for the Romance Writers of America's prestigious award for How To Hook a Hottie and now ABC's.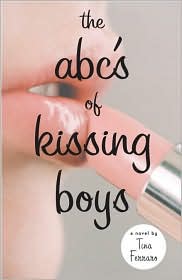 Also, Tina has recently become a finalist in the
Gayle Wilson Award of Excellence YA category
.
Yes, Tina is on fire, YA Freshers! *sizzle, sizzle*
Huge Congrats, Tina Ferraro!!!!
Let's also send congrats to the other awesome
YA RITA finalists for Best Young Adult Romance
:
2010 RITA for Young Adult Romance
Fairy Tale by Cyn Balog
Random House Group, Delacorte Press
ISBN: 978-0-385-738494

Don't Judge a Girl by Her Cover by Ally Carter
Hyperion Books for Children
Editor: Jennifer Besser
ISBN: 978-1-423-11638-7

Perfect Chemistry by Simone Elkeles
Walker Books for Young Readers
Editor: Emily Easton
ISBN: 978-0-8027-9823-7

Going Too Far by Jennifer Echols
Simon & Schuster, Pocket Books, MTV Books
Editor: Jennifer Heddle
ISBN: 978-1-416-57173-5

The ABC's of Kissing Boys by Tina Ferraro
Random House Group, Delacorte Press
Editor: Krista Marino
ISBN: 978-0-385-73582-7

Nothing Like You by Lauren Strasnick
Simon & Schuster Children's Publishing
Editor: Anica Rissi
ISBN: 978-1-416-98264-7
*sigh* I just love RWA RITA time!!