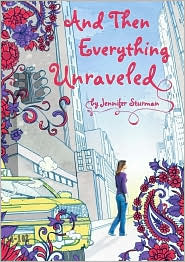 We're starting off this week with a cool giveaway by Jennifer Sturman!

Jennifer Sturman is the author of two adult mysteries and has now blasted into YA with her cool novel, AND THEN EVERYTHING UNRAVELED by Scholastic Point.

This is what we'll be giving away:

3 galleys of the book
3 Magic Eightball Keychains
(and when the book is released) 3 autographed copies of AND THEN EVERYTHING UNRAVELED.


Here's what the story is about:

Delia Truesdale has no idea her life's about to change forever. She's too busy enjoying the California summer. Her internet tycoon mother, T.K. Truesdale, is out of town, and that means Delia can spend all her time at the beach, surfing. That is, until everything unravels.

Her mother suddenly goes missing, and everyone thinks she's dead - excpet Delia, who knows T.K.'s way too organized to simply disappear. But Delia's still sent to New York to live with her two aunts - a downtown bohemian and an uptown ice queen.

And in case that's not bad enough, she also has to deal with a snooty new school and trying not to fall for the wrong guy. Oh, and finding her mother.

As she delves deeper into the tangle of conspiracies and lies surrounding T.K.'s disappearance, Delia begins to suspect that the wrong guy may be the right guy...and that some secrets - especially the dangerous ones - were never meant to be unraveled.
Sounds like a intriguing read, huh? Leave a comment of your favorite mystery book or mystery movie or detective and we'll pick the three lucky winners on Thursday, July 9th, 2009!
Also Jennifer is having a cool event in the New York area July 22, 2009 @ 7:00 to 8:00 PM @ the
Partners & Crime Mystery Booksellers
.
Happy commenting and good luck! :)
Jennifer Sturman is the author of several mystery novels, including The Pact and The Jinx. After graduating from Harvard College, Jennifer earned her MBA from Harvard Business School. She now lives in New York City, a few blocks from Delia's aunt Charley. She has no free time, but if she did she would probably spend it watching teen movies from the '80s. Visit her website, www.JenniferSturman.com