What's Fresh with Kaza Kingsley's Erec Rex Series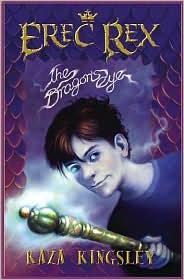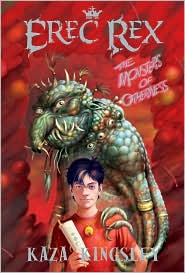 The Dragon's Eye:
Enter Alypium, a hidden world within our own where our old knowledge of magic is kept, and strange and fantastical creatures abound. It is a beautiful and mystical place, but things are caving in. the king is hypnotized and his castle turned on its side. The very Substance that holds our planet together has gone awry . . . and whispers tell of evil plans to destroy everything.

Twelve year old Erec Rex has been yanked out of the world as we know it and thrown unwillingly into danger here. As he learns how to get by in this strange place, he discovers some truths about himself . . . and must learn the power of trust and love in order to save his mother, and all of Alypium.

In this stunning tale packed with action, humor, a colorful cast of characters and a riveting plot, debut author Kaza Kingsley brings us into a land of danger and excitement. For Erec, it is a world that is eerily familiar and inevitably entwined with his future.
Hi Kaza, it's great of you to join us! Could you please tell us a little about your writing background and how you made your first sale?
Kaza: Sure! As far as the former, I've been writing forever. I used to make my friends write "books" with me when they came to play, until they finally couldn't stand it anymore, and then we'd go play tag. I read a ton too (which is probably no surprise) and finally began to read books about writing, going to workshops, etc. I majored in psychology in college, which helped me when it comes to analyzing and developing characters, I think. I never got an MFA, but did continue with serious critique groups, workshops, etc. I probably wrote a hundred short stories, and learned a lot along the way. I also published some nonfiction, but that is not where my heart is.
I wrote a novel that never got published, then found a great agent at Writers House for Erec Rex. She left soon, and rather than do the "agent shuffle" I ended up going with a small press. So my first published novel was Book One of the Erec Rex series, The Dragon's Eye, with Firelight Press.
Readers and writers often like to get a behind the scenes peek of an author's writing routine. It would be great if you could please share your typical writing day schedule.
Kaza: My writing days are so crazy! I immerse myself so completely it's nuts … but it works best for me that way. I find I get into my story fully, and can write much better if that is all I do. So my typical writing day is:
-Wake up around 7:30 or 8:00.
-If it's not freezing and snowy (as it has been a lot lately) I run for exercise.
-I make myself a hot cup of organic herbal tea, like a cinnamon-spice blend, or mint tea (if I'm tired then a green tea,) and break off a hunk of dark organic chocolate with things like cranberries and hazelnuts in it
-Then I answer email.
-And finally sit at my desk and disappear into Erec's world for the rest of the day. I take a few breaks to eat lunch, do a few odds and ends. But I'll pretty much write for 8 – 10 hours a day.
-Then try to go to sleep early so the next day will be productive.
That last one is so important, but so hard for me when I first get into a writing jag. I'm a night-owl usually, and don't care if I get a lot of sleep. But when I'm doing a lot of writing I can really tell the difference in my productivity and energy.
I just finished Book Three, The Search for Truth, and I feel like I've come out of hibernation! It's getting passed around to authors for blurbs, editors, etc. And there is still work I need to do on it as well, but now, as a reward, I've treated myself to a few movies during the day, and a lot of R and R. I'll need it – I'm going to start on another book before long. And I'm doing a lot of school visits soon, again, too. So that will keep my busy!
It's really a crazy life!
I agree! Please tell us about your latest novel in the Erec Rex series and what we can expect from your characters
.
Kaza: I am, I think, more excited about this third book than I've been about the others. It's called Erec Rex: The Search for Truth. It's published by Firelight Press, and releasing October 1st.
For those who have followed the series, this is what I call my "Upper Earth" book. Not all, but a fair amount of the plot takes place in Upper Earth – or our world. This took a lot more research, of course, looking into the habitat, geography, climate, and landmarks of many places around the world, rather than making up my fantasy realm. Erec must make some very difficult choices in this book. This is also the book where very much is revealed. Many questions are answered – but a few more come up!
What's up next? Do you have another project in the works? If so, please tell us about it.
Kaza: I just finished Book Three a few weeks ago, and will be going through another edit soon. So I can't really dig into anything else for a good month. Plus I'll be traveling to schools and bookstores in a few cities this spring. But as soon as I can I will start either Book Four or a side book for the series about Aoquesth the dragon. I'm going to try for the side book, but will see. I'm very drawn to starting Book Four now!
Sounds great, Kaza, and thank you again for sharing with us. I wish you the best with your series. Would you like to close with a writing tip?
Kaza: Yes – writing is like learning a foreign language. The more you use it, the better you can express yourself with it. Write as much as possible. Read books about writing. Analyze other people's writing. Use it all the time, and you'll learn to make it work for you!
Kaza Kingsley is the author of the bestselling Erec Rex series, available in bookstores across the country. Her series is coming out in nine other countries so far, and was Borders Books Original Voices pick for last December. Visit www.erecrex.com for more information.