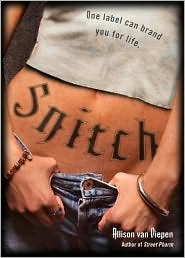 Allison van Diepen, author of Street Pharm, is back with another dark and realistic teen tale with SNITCH.

Julia DiVino lives in a mixed territory where Crips and Bloods are always at battle. Even though she has friends in the gangs, she doesn't want any part of it.

Until she meets Eric, a new boy she begins to care for, and wants to be part of the gang lifestyle. Julia tries to stay away from Eric, but she can't deny her feelings when she knows he's in danger. When she warns him of a gang beat down, Julia becomes a target of retaliation from the opposing gang.

And Julia's life ultimately changes.

SNITCH is fast-paced, edgy read with a heart-felt romance, and life-altering messages. Another awesome read by Allison van Diepen that will keep you turning the pages late into the night!