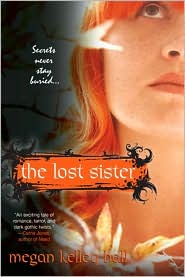 Hello Megan, it is always great to chat with you! Please tell us about your latest novel The Lost Sister
.

Megan: THE LOST SISTER is the continuation of SISTERS OF MISERY. It ties up a lot of the questions that were unanswered in SISTERS and has a whole new group of mysteries that need to be answered. Maddie grows more of a backbone and comes into her own. People get what they deserve (watch your back, Kate Endicott).

Here's the back cover copy and publishing info:

THE LOST SISTER takes a chilling look at what happens when hazing pushes someone too far...

Sisters are born, not chosen...

Maddie Crane is grappling with the disappearance of Cordelia LeClaire, and trying to escape the grasp of The Sisters of Misery—an insidious clique of the school's most powerful girls, whose pranks have set off a chain of horrific events, and who have Maddie in their sights…

Beware the sister betrayed...

Now in a prestigious boarding school far away from her mysterious hometown of Hawthorne, Massachusetts , Maddie feels free from danger. But when an unmarked envelope arrives at her dorm containing a single ominous tarot card, Maddie realizes with terror that some secrets won't stay buried. Knowing she must return to Hawthorne—a town still scarred by the evil of the Salem witch trials—Maddie prepares to face the fears of her past...and the wrath of the sister she wronged.

THE LOST SISTER by Megan Kelley Hall
Publisher: Kensington Books
Date: August 2009
ISBN: 978-0758226808

Praise from reviewers/readers:

A character driven tale containing a deep Gothic feel and haunting foreboding atmosphere that hooks fans of all ages....With strong ties to the late seventeenth century Salem Witch Trials, THE LOST SISTER is a super thriller. -- Harriet Klausner

An exciting tale of romance, terror, and dark gothic twists.
--Carrie Jones, author of NEED

Hall will have your heart racing and you will not be able to put this book down. With historical allusions to the New England witch trials and a touch of the paranormal, THE LOST SISTER is a thriller in a league of its own.
-- TeensReadtoo / Awarded THE LOST SISTER the Hall of Fame Gold Star Award for Excellence

Hall's ability to construct a story that utilized elements of mysticism and witchcraft accompanied with local history made for an intriguing read.If you are looking for a good whodunit with a dash of the supernatural that includes compelling characters that you'll want to revisit in the future then The Lost Sister is definitely for you.
--Galleysmith

Blown away... The suspense, mystery, intrigue, and drama steadilybuild up throughout the novel, making it impossible to put the bookdown. I would recommend it to almostall book lovers. It has made me hungry for more of Ms. Hall's work! - Mrs. Magoo Reads
Sounds awesome! Could you share a bit about the main character of your book and what makes her unique?
Megan" Maddie was created to be an "every girl." She's not perfect. She doesn't always do what the reader wants her to do. She doesn't stand up for things and people when she should. But I feel that in THE LOST SISTER, she's grown and has come into her own a little bit. This is what she's taken away from having Cordelia in her life. Cordelia is free and independent spirit and although she's somewhat flawed herself, she is the mirror that forces the inhabitants of Hawthorne to take a good look at themselves and their actions. Cordelia has her own issues and problems that she's trying to overcome, but at the same time she inspires Maddie and is a catalyst. for many of the events that take place in Hawthorne (both the supernatural and the mundane.)
How did the idea for this novel come about?
Megan: The Lost Sister picks up where Sisters of Misery left off. It shows what happens when someone is pushed too far and when hazing pranks go wrong. It's a continuation of Sisters of Misery, in that it's a modern-day retelling of the Salem Witch hunts. It has a sort of fairytale-esque Gothic appeal and it will keep you up at night due the spooky, supernatural events that take place.
What do you hope readers will gain from reading this novel?
Megan: Right now bullying is a huge problem for teens. Almost 6,000,000 kids, nearly 30% of all children, are either bullied or are doing the bullying in this country. Now, for the first time, the American Academy of Pediatrics is stepping in with recommendations and tips to help all involved. The issue of bullying is at the heart of THE LOST SISTER.
With incidents like the hazing at Miss Porter's school in New York and a recent study out of the University of Maine, stating that almost 50 percent of college students said that they experienced some form of hazing in high school, girls bullying and hazing each other is an unfortunate reality. By writing this series, I was hoping to shed some light on this growing problem and to let girls know that if they have experienced any form of bullying or hazing, they are not alone, and they do NOT have to take it anymore.
Thanks for sharing, Megan! Would you like to close with a novel you highly recommend and why?
Megan: Other than The Lost Sister and Sisters of Misery? Ha ha, just kidding. I'd recommend Graffiti Girl and Invisible Touch by an amazing author Kelly Parra. I also encourage readers of all ages to check out the books by the other members of the Girlfriend's Cyber Circuit. And of course, I always recommend my all-time favorite book, THE SECRET HISTORY by Donna Tartt, just because she set the bar so high for a debut novel with that literary thriller. It's the type of book you can read again and again.
You are so nice. Thank you, Megan!! Best of luck with The Lost Sister!
Megan Kelley Hall, 34, freelance writer and literary publicist living in Swampscott, Massachusetts, is currently represented by Elisabeth Weed of Weed Literary in NYC with her first YA novel, SISTERS OF MISERY, to be published by Kensington Books in August 2008. Hall will also have an essay about her recent open heart surgery in former CNN anchor Daryn Kagan's anthology, WHAT'S POSSIBLE! (Meredith Books, 2008).

Hall regularly writes articles for a variety of local and national magazines and publications, including Elle, Glamour, Boston Magazine, Parenting, American Baby, Working Mother, The Boston Globe, Boston Herald, Better Homes and Gardens.com, More.com, Ladies Home Journal.com, New England Bride, MetroSports, Parents and Kids, The AKC Gazette and various online publications. Hall's writing has been included in an anthology of pregnancy stories entitled, THEY LIED: True Tales of Pregnancy.

She studied creative writing at Skidmore College under the Pulitzer-Prize winning author Steven Millhauser. Hall is also writing a non-fiction memoir about her recent open heart surgery, as well as her life as a cancer survivor, her partial vision loss and the premature birth of her very healthy and happy four year old daughter Piper Elizabeth. The memoir is tentatively entitled, BLINDED BY LOOKING AT THE BRIGHT SIDE. Hall was also the editorial consultant for The Official TV Guide Collectors Guide. Visit her website, http://www.megankelleyhall.com.