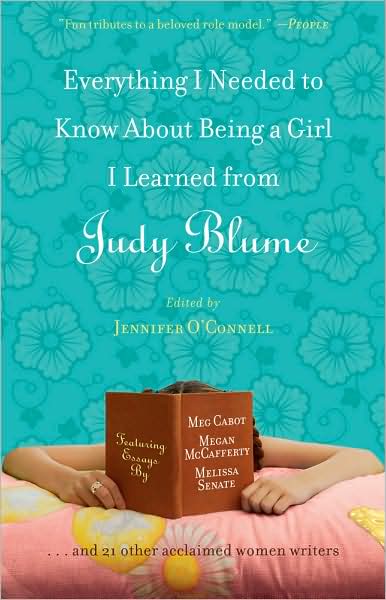 We're back chatting a little with author Jenny O'Connell about the trade paperback publication of EVERYTHING I NEEDED TO LEARN ABOUT BEING A GIRL I LEARNED FROM JUDY BLUME. I wanted to share about this release on YA Fresh because this one is for teen readers, fans of Judy Blume, and those of us still young at heart. :)

Here's what Publisher's Weekly had to say about the collection:

This collection of 24 essays edited by O'Connell (Plan B) pays tribute to the influence of Judy Blume and her work about coming-of-age as a girl in America. In each piece, the writer reveals what O'Connell calls her "Judy Blume moment," telling a heartfelt and revealing story that reflects the same social awkwardness and true-to-life experiences Blume conveys in her novels, from menstruation to childhood bullying to masturbation. In "Cry, Linda, Cry," Meg Cabot recalls how Blume's book Blubber taught her how to laugh at herself, while also giving her the courage to stand up to schoolgirl bullies. Likewise, Stephanie Lessing, in "The One That Got Away," reflects on Blume's It's Not the End of the World, explaining the solace she found in its understanding of what it's like when parents divorce. Readers who similarly found solace and support in Blume's work should relate easily to these writers through the Blumian characters and themes they evoke. Writing in the spirit of Blume, these women present their experiences as a series of personal truths: "girl moments. Woman moments, Human moments."
Hey Jenny, as always, great to have you with us! Please tell us about your latest release!
Jenny: EVERYTHING I NEEDED TO KNOW ABOUT BEING A GIRL I LEARNED FROM JUDY BLUME is a collection of non-fiction essays by women authors of YA and adult fiction. I was about to begin writing my first teen book, PLAN B, and I sat at the computer and thought to myself, "Everything I needed to know about being a girl I learned from Judy Blume." And so the idea for the collection of essays was born. Because I knew I wasn't the only one who felt like that. I started emailing my writer friends to see if they'd like to participate and everyone jumped at the chance. When other authors heard about it they started emailing me asking if they could join! I had to say no because I already had so many authors the book could have been twice as big!
Very cool! What's up next? Do you have another project in the works? If so, please tell us about it.
Jenny: I'm working on a teen book (ok, "working on" is generous, I have one chapter).
haha! Thanks for stopping by, Jenny. Would you like to close with another writing tip?
Jenny: Read a lot. I get my inspiration from reading other people's writing. It makes me want to write and to become a better writer.
Although she's written about a reality dating show, a prescient pastry chef, and a woman who inspired an 80's rock hit, Jennifer has not spent hours dissecting The Bachelor, she can barely follow the directions on the back of a Betty Crocker box, and she can only dream of a long-haired, guitar-thrashing rocker even giving her a second glance.

While she cringes at the thought of being called Jenny again after all these years, her first teen book PLAN B, was published under Jenny O'Connell by MTV Books (March 2006). Jenny's second teen book, THE BOOK OF LUKE, arrived in April 2007, and her Martha's Vineyard Novels, LOCAL GIRLS and RICH BOYS, were published in June 2008.

Her days as a high school senior may be long behind her, but Jennifer did receive her B.A. from Smith College and her M.B.A. from the University of Chicago. Visit her at www.jenniferoconnell.com/