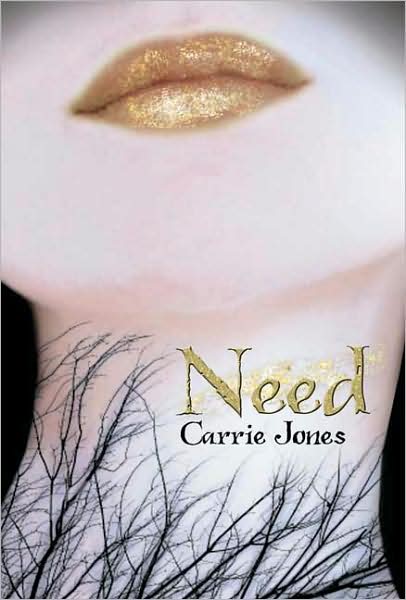 What's Fresh with Carrie Jones's NEED

Hello Carrie, its great to chat with you again! Please tell us about your latest novel.

Carrie: It's called NEED and it's published by Bloomsbury. It was released on Dec. 23 right before Christmas, which makes it a little scary because a lot of people aren't paying a lot of attention right before Christmas.

Zara collects phobias the way other high school girls collect lipsticks. Little wonder, since life's been pretty rough so far. Her father left, her stepfather just died, and her mother's pretty much checked out. Now Zara's living with her grandmother in sleepy, cold Maine so that she stays "safe." Zara doesn't think she's in danger; she thinks her mother can't deal.

Wrong. Turns out that guy she sees everywhere, the one leaving trails of gold glitter, isn't a figment of her imagination. He's a pixie—and not the cute, lovable kind with wings. He's the kind who has dreadful, uncontrollable needs. And he's trailing Zara.

Sounds awesome! Could you share a bit about the main character of your book and what makes her unique?

Carrie: Zara is pretty much made of awesome. She's a runner, and she's from Charleston. She is really devoted to social justice issues and Amnesty International. Her step-dad (who raised her) died and this gets her in a funk. She starts collecting phobias, which is cool. There are a ton of cool phobias out there. She's also awesome because she wants so badly to make the world better.

How did the idea for this novel come about?

Carrie: I was at the Common Ground Fair, which is this huge, cool fair in Maine that's sponsored by Maine Organic Farmers and Growers Association (MOFGA). To get to the main part of the fair you have to walk through this sweet trail that curves through these tall spruce trees.

Right in front of me was this guy. He had a weird vibe. He was wearing all corduroy – blazer, pants. And sticking out from his blazer was this long tail-like appendage that was wrapped in different colored earth-toned cloth. I guess he could tell I was checking him out because he turned his head and looked at me. His eye was this startling silver color. How startling? So startling that I actually gasped and got creeped out.

Then when we were in line to pay we made eye contact again and his eyes were brown.

I know! I know! I probably imagined the silver eye color.

It doesn't matter. That was one of the main things that got me started. Then, I just had this image of a man standing outside an airport pointing at an airplane this girl was on.

It also creeped me out.

So, I started writing.

Wow, that's a very cool backstory! hah! What do you hope readers will gain from reading this novel?

Carrie: That it's okay to NOT be the damsel in distress. That it's okay to try to change the world. And that can be the BIG world or your own world. And that it is very okay to fall in love with hot boys named Nick.

I personally would like to fall in love with a hot guy named Nick.

Thanks for sharing, Carrie. Best of luck with NEED! Would you like to close with a novel you highly recommend and why?

Carrie: I am no good at the recommendations. I'm so sorry. Tastes are so ecclectic and then I start feeling like I'm playing favorites and I HATE playing favorites. Plus, what if I recommended HAMSTERS IN LOVE, which is an erotic hamster novel (not really I made it up) and then someone was afraid of hamsters and panicked while reading it and hurt their head in their mad dash to get away from the book because they slipped on the kitchen floor and banged into the refrigerator.

I just don't want to be responsible for that, so I'm wussing out.

Carrie Jones likes Skinny Cow fudgsicles and potatoes. She does not know how to spell fudgsicles. This has not prevented her from writing books. She lives with her cute family in Maine, but she grew up in Bedford, NH where she once had a séance with cool uber- comedian Sarah Silverman.

The Meyers brothers are from Bedford, too, so you'd think it would make Carrie funnier, coming from Bedford N.H. Obviously, something didn't work.

Carrie has a large, skinny white dog and a fat cat. Both like fudgicles. Only the cat likes potatoes. This may be a reason for the kitty's weight problem (Shh… don't tell). Carrie has always liked cowboy hats but has never owned one. This is a very wrong thing. She graduated from Vermont College's MFA program for writing. She has edited newspapers and poetry journals and has recently won awards from the Maine Press Association and also been awarded the Martin Dibner Fellowship as well as a Maine Literary Award and the Independent Book Publishers Association First Place Award for her debut novel, Tips on Having a Gay (ex) Boyfriend. Visit her website, www.carriejonesbooks.com.