Kisses and Goodies!

And let's kick off today with the lucky winner of Tina's ABC's of Kissing Boys Lipstick goodie bag....


Book Spot, Lucile,  you are the winner!!!
Please contact Tina with your mailing address @ admin@tinaferraro.com for your prize. Thanks for playing, Everyone, and don't forget there's another giveaway this week. :)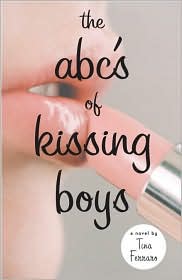 So I'm so super excited about Tina's latest release, as I am for every one of Tina's books, but this one...this one shares so many varieties of kissing that I just loved reading how this story unfolded. *smooches* It was a serious education! Parker Stanhope was one character I did not want to leave, but luckily I get to read ABC's again and again anytime I'd like.
You see, I only knew of one type of kiss as a young girl that was both scary and thrilling.
The first kiss.
I remember it in a sort of fond and laughable moment when I was supposed to kiss a boy for a full
5 seconds
. An eternity, really. :) I was ready, though. I stood in front of the boy named Brandon, with his shaggy brown hair and safety-pinned pant legs, determined to get through these sure to be life-altering 5 seconds...
And what happened? The boy kissed me 5 quick pecks on the lips. For five seconds...one kiss per second. haha! I chuckle everytime I think about it. I think I shall name that kiss the 5 Peck Kiss!
Come on, there isn't anything so thrilling, so memorable, as your first kiss.
Have a first kiss moment to share? 
oxox
~kelly