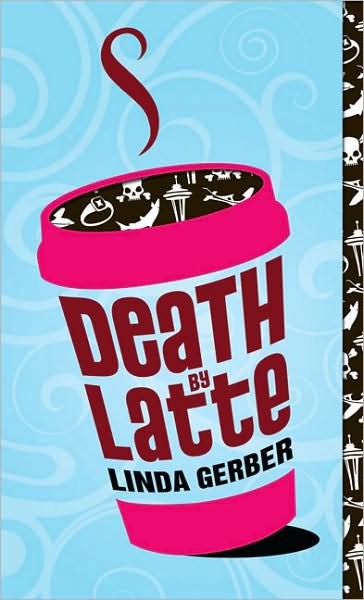 What's Fresh with Linda Gerber's Death by Latte

Hello Linda, great to have you back to chat. Please tell us about your latest novel DEATH BY LATTE.

Linda: DEATH BY LATTE, Puffin Books (September 18, 2008)

Aphra Connolly had been living a quiet existence on her father's secluded island resort, until Seth Mulo turns up and steals her heart… and provides information that leads her to find her mom in Seattle. But the reunion isn't quite what she expected. Aphra's mom, Natalie, doesn't seem happy to see Aphra, and Natalie's boyfriend, Joe, insists that Aphra go home. Even worse, Seth shows up, only to ask her to return the ring he had given her that summer. At least Natalie's good-looking neighbor is sympathetic. But when Joe is found dead at a nearby coffee shop, Aphra discovers her whole trip to Seattle has been based on a lie. And now someone just might be trying to kill her. . . .

Could you share a bit about the main characters of your book and what makes him/her unique?

Linda: Aphra Connolly has been living on a private island with her dad for the past four years. She's a quick thinker, which is a good thing since she keeps getting mixed up in dangerous situations.

Seth Mulo and his family defected from a sleeper cell so he has lived most of his life undercover. Under his false identity, he was in his senior year of high school, playing football and generally enjoying life - until his family was found and had to run again.

How did the idea for this novel come about?

Linda: A few years back, I had written a short story as an exercise for a writers' forum. I had so much fun with it that I decided to develop it a little more until eventually it grew to book length, though it was never intended for anyone's eyes but my own. Meanwhile, I had sold a couple of books to Puffin and - in a moment of utter insanity - I decided to take a chance and show my for-fun book to my editor. She liked it. DEATH BY LATTE is book two in a three-book contract I earned from that moment of insanity.

Great! What do you hope readers will gain from reading this novel?

Linda: A pleasant escape, a glimpse at mother/daughter relationships and an awww feeling from the romance.

Thanks for sharing, Linda! I wish the best with the series. Would you like to close with a novel you highly recommend and why?

Linda: There are so many great books out there that I could go on for pages recommending them! I'll stick with a recent read - the Gemma Doyle trilogy (A Great and Terrible Beauty, Rebel Angels and A Sweet, Far Thing) by Libba Bray. I loved the tone, the setting, the characters, the mystery. It's definitely on my recommended reads list.

Linda recently returned to life in the Midwest after four years in Japan, where she served as the Regional Advisor for the Society of Children's Book Writers and Illustrators. She currently lives and writes in Dublin, OH, blissfully ignoring her husband, four kids, and one very naughty puppy. Visit her website, www.LindaGerber.com.