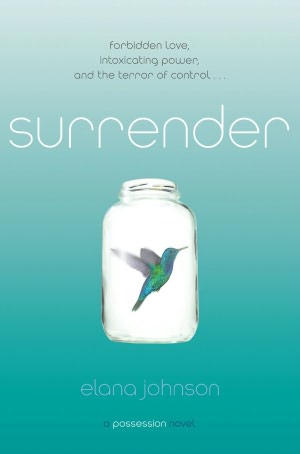 The thrilling and seductive sequel to Possession puts love on the line in a dystopian struggle for independent thought. Forbidden love, intoxicating power, and the terror of control… Raine has always been a good girl. She lives by the rules in Freedom. After all, they are her father's rules: He's the Director. It's because of him that Raine is willing to use her talent—a power so dangerous, no one else is allowed to know about it. Not even her roommate, Vi. All of that changes when Raine falls for Gunner. Raine's got every reason in the world to stay away from Gunn, but she just can't. Especially when she discovers his connection to Vi's boyfriend, Zenn. Raine has never known anyone as heavily brainwashed as Vi. Raine's father expects her to spy on Vi and report back to him. But Raine is beginning to wonder what Vi knows that her father is so anxious to keep hidden, and what might happen if she helps Vi remember it. She's even starting to suspect Vi's secrets might involve Freedom's newest prisoner, the rebel Jag Barque…

Hi Elana, so great to have you chat with us! Please tell us what your latest novel, Surrender, is about.
Elana: SURRENDER is the second book in the POSSESSION series. It's a novel about Raine and Gunner, two teens who live in the capital city of the Association, who join the underground rebellion against the government.
Have you always wanted to be a writer?
Elana:
I didn't realize actual people WROTE books until I tried writing one myself. I was 30 years old. So no, I've actually never wanted to be a writer.
What made you decide to go that "extra step" and seek publication?
Elana:
I sort of have a pit bull personality. Once I start something and sink my teeth into it, I don't let go until it's finished. So once I'd written a book, the next natural step was to figure out how to get it published.
Quick! You've been chosen to go on Survivor. What luxury item do you take?
Elana:
Sunscreen. I'm seriously so allergic to the sun. I would die out there.
haha! Thanks for sharing, Elana! Best of luck with your writing!
Elana's work including POSSESSION, REGRET, and SURRENDER is available from Simon & Schuster wherever books are sold. She is the author of From the Query to the Call, an ebook that every writer needs to read before they query, which can be downloaded for free on her website. She runs a personal blog on publishing and is a founding author of the QueryTracker blog. She blogs regularly at The League of Extraordinary Writers, co-organizes WriteOnCon, and can be found on Twitter and Facebook. She wishes she could experience her first kiss again, tell the mean girl where to shove it, and have cool superpowers like reading minds and controlling fire. To fulfill her desires, she writes young adult science fiction and fantasy.