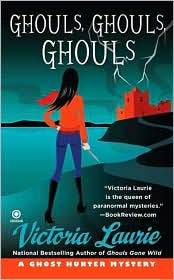 Are you looking for another paranormal series to sink into? Here's your chance!

When M.J. Holliday and the crew of her cable TV show, Ghoul Getters, venture to the haunted ruins of Dunlow Castle in Ireland, drawn by the legend of hidden treasure, they hope the road will rise up to meet them, that the wind will always be at their backs-and that the resident phantom won't push them off a cliff. If they treasure their lives, M.J. and her ghost busters need to get the drop on the menacing phantom...

GHOULS, GHOULS, GHOULS is the fifth book in Laurie's popular Ghost Hunter Mystery series. The series features sassy, no-nonsense medium and ghost buster M.J.Holliday. Laurie, real-life professional psychic, has been hailed as the "queen of paranormal mysteries" (BookReview.com). Kirkus says, "Reminiscent of Buffy the Vampire Slayer's bunch, Laurie's enthusiastic, punchy ghost busters make this paranormal series one teens can enjoy too."

RULES: Comment to win a free copy of Ghouls, Ghouls, Ghouls by Victorie Laurie between now and February 6th, 2011. This contest is publisher sponsored and open to US residents only. Winner to be announced Monday, February 7th. Oh, and happy commenting!

To learn more about New York Times Bestselling author Victoria Laurie and her works, visit her website, www.victorialaurie.com.