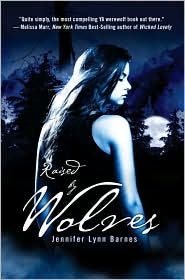 Hello YA Freshers!

I just wanted to give a shout out to Jennifer Lynn Barnes for her latest release Raised By Wolves!! Have you heard about it? Here's the blurb:


At the age of four, Bryn watched a rogue werewolf brutally murder her parents. Alone in the world, she was rescued and taken in by the mysterious Callum, the alpha of the local werewolf pack. Now fifteen, Bryn's been raised as a human among werewolves, adhering to pack rule (mostly). Little fazes her.

But the pack's been keeping a secret, and when Bryn ges exploring against Callum's direct orders, she finds Chase, a newly turned teen WEre locked in a cage. Terrifying memories of the attack on her mom and dad come flooding back. Bryn needs answers, and she needs Chase to get them. Suddenly, all allegiances to the pack no longer matter. It's Bryn and Chase against the werewolf world, whatever the consequences.

An exciting new paranormal adventure with a heroine who rivals Buffy, Raised By Wolves will leave you howling for more.
Sounds like my kind of book! Raised by Wolves is on bookshelves now. I'm excited to check it out!
Jennifer Lynn Barnes (who mostly goes by Jen) was born in Tulsa, Oklahoma. She has been, in turn, a competitive cheerleader, a volleyball player, a dancer, a debutante, a primate cognition researcher, a teen model, a comic book geek, and a lemur aficionado. She's been writing for as long as she can remember, finished her first full book (which she now refers to as a "practice book" and which none of you will ever see) when she was still in high school, and then wrote Golden the summer after her freshman year in college, when she was nineteen.

Jen graduated high school in 2002, and from Yale University with a degree in cognitive science (the study of the brain and thought) in May of 2006. She'll be spending the 2006-2007 school year abroad, doing autism research at the University of Cambridge in the United Kingdom. Visit Jennifer's website www.jenniferlynnbarnes.com.