Hi YA Freshers!
I'd like to invite you to two special occasions...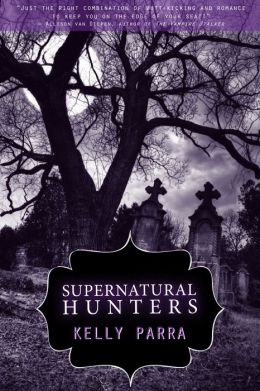 "Just the right combination of butt-kicking and romance to keep you on the edge of your seat." —Allison van Diepen, The Vampire Stalker
Supernatural teen hunters and kick-butt couple Jaz and Blake get trouble in their own backyard, the graveyard, when a ghoul is on the loose and looking for fresh meat. When a teen hunter on the verge of death arrives at their doorstep, they realize a much greater evil is upon them.
Jaz is satisfied with their makeshift foster family and fighting monsters, but Blake yearns for adventure and the truth about his biological family. Will Blake leave Jaz to search for something more...and to fend for herself? Can a relationship survive when death is lurking just beyond the gravestones?
SUPERNATURAL HUNTERS is the first novella to follow Jaz and Blake's whirlwind, action-packed romance started in PROM DATES TO DIE FOR and SOMETHING WICKED. With an eye for great dialogue and fight scenes, SUPERNATURAL HUNTERS is a fast-paced, fun read.
1) Today is the official release of my novella SUPERNATURAL HUNTERS!
I just want to share my excitement with you! For the past couple of years, I have been writing short fiction. It gave me a break from writing a full-length novel and it was fun! When I decided to create Jaz and Blake (my monster-fighting teen duo) I didn't worry about pressures or plot lines, just wrote for the joy of it. Jaz and Blake were born in their first short story together titled "Darkness Becomes Him" in the PROM DATES TO DIE FOR anthology. But Jaz and Blake were not ready to be laid to rest in their world of fighting monsters, they wanted to keep sharing their adventures with you. They wanted to fight merpeople in the story, "Mermania" in the SOMETHING WICKED anthology. I thought that might be it for them but alas, they wouldn't stop whispering in my ear. They wanted a longer story. They wanted a novella to battle ghouls and a wicked necromancer. Just to assure you, each story is a standalone. You can read the first chapter on Amazon and a cool extra scene on my website. I would love for you to download a copy from Amazon or Barnes & Noble.
2) Not only is SUPERNATURAL HUNTERS officially releasing today, but Buzz Books is throwing a fantastic on-line launch party on Facebook and all of you are invited! Just click join and you'll be entered into winning some fun prizes...
SUPERNATURAL HUNTERS is the first full-length novella to follow Jaz and Blake's whirlwind, butt-kicking romance started in PROM DATES TO DIE FOR and SOMETHING WICKED. (The story still stands alone for new readers.) JOIN the launch party for giveaways all day long including copies of PD2D4, SW and Jenny Peterson's upcoming YA fantasy, CREATURE DISCOMFORTS as well as Diana Rodriguez Wallach's NARA GAZING Mythology High story.

BUY SUPERNATURAL HUNTERS ON 10/1 for a chance to win a Kindle on Halloween! ($79 value). Email receipt to buzzbooksusa (at) me (dot) com.
Thank you for letting me share with you! I hope to chat with you on-line at the launch party. Come join to win, win, win!