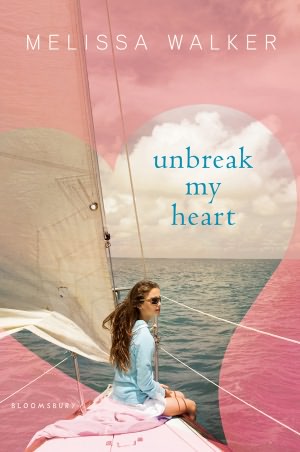 Melissa Walker's Unbreak My Heart is now available!!

Sophomore year broke Clementine Williams' heart. She fell for her best friend's boyfriend and long story short: he's excused, but Clem is vilified and she heads into summer with zero social life. Enter her parents' plan to spend the summer on their sailboat. Normally the idea of being stuck on a tiny boat with her parents and little sister would make Clem break out in hives, but floating away sounds pretty good right now. Then she meets James at one of their first stops along the river. He and his dad are sailing for the summer and he's just the distraction Clem needs. Can he break down Clem's walls and heal her broken heart? Told in alternating chapters that chronicle the year that broke Clem's heart and the summer that healed it, Unbreak My Heart is a wonderful dual love story that fans of Sarah Dessen, Deb Caletti, and Susane Colasanti will flock to.

What others have been saying about Melissa's latest novel...

♥ "A super cute love story! Melissa Walker will inspire readers to never stop believing in true love." —SUSANE COLASANTI, author of When It Happens and Keep Holding On

♥ "A raw, real, and ultimately heartwarming discovery of what it means to be a true friend. Walker gets it exactly right." —JENNIFER ECHOLS, author of Love Story and The One That I Want

♥ " I can't stress enough how firmly this book has wedged itself in my heart." -The Hiding Spot

♥ "This book earns an infinity amount of stars!" -Novel Nerd Bailey

♥ "Unbreak My Heart challenged me as a reader…and I loved every bit of it." -Anna Reads

♥ "There are tinges of Julie Taylor and Matt Saracen in this one. For real, y'all." -Clear Eyes, Full Shelves Sounds like an awesome summer read!!

MELISSA WALKER has worked as ELLEgirl Features Editor and Seventeen Prom Editor. She is the author of Small Town Sinners, the Violet on the Runway series, and Lovestruck Summer. Melissa manages the daily e-newsletter, iheartdaily.com and handles blogging for readergirlz.com. Visit her website www.melissacwalker.com.